Afriforum's Kriel – I don't think apartheid was a crime against humanity
Following AfriForum's recent visit to the United States to garner support for its fight against land expropriation without compensation and 'white genocide', the question of whether AfriForum is a fascist group has become a discussion point.
During the Afrikaans interest group's tour of the US, AfriForum CEO Kallie Kriel and his deputy Ernst Roets posted a photo of themselves with security adviser to President Trump, John Bolton — described as a "fascist" by University of Witwatersrand vice-chancellor Adam Habib in a radio interview.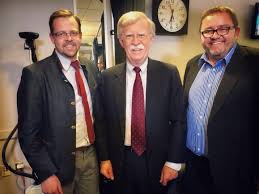 Speaking to the HuffPost, the US' National Security Council spokesman Robert Palladino said Bolton did not know the AfriForum leaders but had received a copy of Roets' book. It's unclear whether the officials including Bolton, were aware of AfriForum's views prior to the meeting.
In a discussion hosted by Eusebius McKaiser on Radio 702, Habib further explained saying: "He [Kriel] might as well have gone to the Klu Klux Klan, taken a photo with them and said 'Check me out, I'm in the US!'"
The problem according to Habib, is who AfriForum is aligning itself with and what these associations implicitly say to the world.
When asked whether he thinks AfriForum is racist, Habib asserted that he believes the group to be "utterly racist".
Another participant in this discussion was associate law professor at the North West University, Elmien Du Plessis. Du Plessis has recently argued that the statistics of white farmer murders that AfriForum uses don't support its claims of a 'white genocide'.
After presenting why she thinks AfriForum's US tour is "misguided" and how the statistics do not tally on social media, Du Plessis started receiving threatening messages and phone calls.
Ernst Roets posted a 31-minute YouTube rant where he criticised Du Plessis's argument and even quoted Jewish writer Victor Klemperer, who wrote that if the tables were turned after the Holocaust he "would have all the intellectuals strung up, and the professors three feet higher than the rest; they would be left hanging from the lamp posts for as long as was compatible with hygiene."
Du Plessis said although she agrees that the group has a right to look after its interests and what is dear to its members, AfriForum did this in an "isolationist and exclusionary way, in a way that does not really benefit we, the 55-million South Africans".
Du Plessis also criticised AfriForum's use of farm murder statistics saying they are being misused and are not entirely accurate as these statistics are difficult to assess and verify.
Afriforum CEO Kallie Kriel then joined in the discussion. In his prefatory remarks at the beginning of the show Kriel stated: "We are not ashamed of the fact that we take on issues that are of importance to the minority community because it's important that everyone has a voice. We also promote the interests of the broader community."
Kriel gave two examples of how the group is advocating for the broader community: It is acting on behalf of a rural black community "in regards to mines that abuse their property" and taking on the Kwazulu-Natal education department on behalf of children in Nkandla.
Kriel said it was hypocritical for Habib to say that the group was associating with fascists when he used the "same kind of tactics" e.g. saying AfriForum is similar to Adolf Hitler or Idi Amin, without giving examples.
"We condemn any form of racism. And for him [Habib] to try and portray any racist as an AfriForum supporter, then I can say that those people giving us death threats, threatening our families and those that have made extremely racist remarks regarding us are Adam Habib supporters," Kriel said.
Kriel further went on to assert that: "When your opponents don't have answers for your arguments, the easiest way to discredit you is to try and create stereotypes but if we allow those stereotypes to deter us then our opponents will succeed."
When asked whether there is ethnic cleansing in South Africa as the group claims, Kriel answered: "No, there is no ethnic cleansing in South Africa but there are serious warning signs" that show that if this issue is not taken seriously then there will be problems in the future.
Towards the end of the interview, Kriel was asked whether he thinks apartheid was a crime against humanity to which he responded: "I don't think that apartheid was a crime against humanity, but I think it was wrong."