Afrikaner Gemeenskap van 144 gesinne geweldadig verwyder uit hulle huise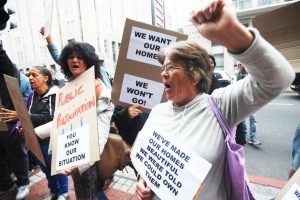 Afrikaner Gemeenskap van 144 gesinne geweldadig verwyder uit hulle huise
Fearful province tenants protest over rent hike
TENANTS of the provincial government – some for 40 years – fear they will be forced onto the streets by month-end because of a steep increase in rent.
Yesterday, they marched to the legislature to protest amended leases they have to sign to pay market-related rentals. This is substantially more than the current rental of 25% of their income.
Tenants say this means they will be forced onto the streets. If they don't sign, they stand to be evicted on June 1.
The houses are in Naruna Estate in Plumstead, Rugby, Sanddrift and De Waal Drive in the CBD.
About 40 banner-waving tenants, mostly elderly, marched from Kaizersgracht Street in District Six.
They allege they were excluded by MEC Bonginkosi Madikizela's Human Settlements Department during the drawing up of the leases.
Estate Residents Association chairperson Karen Saligee led the march, saying: "The protest action was called due to a lack of consultation by the MEC's office regarding the (department's) new revised rental policy. They unilaterally made changes to the tenants' leases."
She said tenants were scared because of the uncertainty. Tenants say they had renovated their houses based on a promise by the province they would own the houses.
They also did not understand some of the clauses in the amended lease, as they were (allegedly) never explained by the department, and adequate reasons were not given for why new leases were necessary.
In their memorandum the tenants object to the content and process of their current amended leases, demanding it be scrapped.
They demand a commitment from Madikizela to a public participation process where landlord and tenant could jointly create new lease agreements for all community residential units and province-owned rental housing.
They also want access to the new Rental Housing Strategy Document at least four weeks before the public participation begins. They had been trying unsuccessfully since last September to obtain a copy, but the department had been unco-operative in supplying them, said Saligee.
"The reason why we are pushing for a public participation process is that the MEC had a meeting on November 24, 2015 with the Natruna Estate residents where he committed himself to a public participation process, where they can voice concerns with the department on all aspects related to the rental units.
"(But) what is prevalent is that the (MEC) and the department do not want to co-operate with the affected communities, by affording them an opportunity to participate in the decision-making process regarding the new lease rental policy."
Madikizela's spokesperson, Zalisile Mbali, said they had been meeting with the tenants.
"We looked at the memorandum and would respond to the tenants in writing. We had been engaged in meetings with them, that's why the protest comes as a surprise," he said.
"We are putting together a detailed response. We want to treat each of the (four) areas differently, because the issues differ."
Sanddrift tenant Sharon Groenewald said: "We are fighting to retain our homes (of the) past 25 years."
Fellow protester Arthur Begg, from Rugby, said the department had promised them in 1994 to sell their rented houses to them.
"We have done numerous renovations to the house since we moved in 38 years ago. We were going to carry on renovating because we were promised the houses would become ours," Begg said.
Source: Capetimes
Afrikaner community forcibly removed in Cape Town
Poor Afrikaner community of 144 families forcibly removed from their public housing in Sanddrift East, Milnerton, Western Cape – and tossed into the street with their children like garbage.
Does anybody care?
A large proportion of the 114 poor-white families in Sanddrift East social housing project near Milnerton in the Western Cape are being forcibly removed (and the process is scheduled to be completed by Nov 2016…).
Families are being forced to 'sign new rental contracts' and if they refuse, they get terrorized with threats that they will be forcibly removed.
Yesterday, one of the five families who were kicked out, Mrs Lee Ann Baxter, telephone 08403377842 is in a very dire straits: her son is 16, her daughter is ten and one of her children suffers from Turner's Syndrome. She literally has no place to go with her family and there has now been a public official installed in her home. Her meager belongings are stored in a yard of a family opposite and getting rained on. They have NOT been offered any suitable alternative accommodation although this is REQUIRED BY LAW.
This family has lived in that house for the past 13 years — eight years since her mother died and five years while Mrs Baxter nursed her sick mother. She asked to stay in that house with her children for 'humanitarian reasons'. But there are no humanitarians left in the Western Cape government.
The municipality reportedly did not offer the residents any SUITABLE alternative housing, although this is required by law before these families can even be moved out.
"Pointing them in the direction of Blikkiesdorp" is not the way to provide 'suitable alternative housing' as required by law.
The provincial housing authorities managed to find an excuse to kick out the majority of these white and coloured Afrikaans-speaking families with 'updated rental contracts' with 'new legal clauses' such as 'no pets' and 'no children older than 18 years' and huge rental increases — which make it impossible for these families to stay together in these low-income homes any longer: where many have lived for longer than 20 years.
Under the black-economic-empowerment laws barring jobs to whites by the government, their children won't be able to find jobs to help support their families either…
Mrs Baxter reportedly burst into tears when she found herself homeless and on the street when she returned to the house after leaving it for a brief period today… .
The 'removal process' is expected to be completed by November 2016.
One elderly tenant, Mrs Michele Cancino, wrote me that she refuses to move. 'I'm a legal tenant', she wrote. She wrote that 'previously we have always voted for the Democratic Alliance in our community…. but they have left us out in the cold.'
On 10 May 2016, the forced evictions started with five families evicted into the cold outdoors in Sanddrift East… near Milnerton and many more are expected to follow at the other Provincial housing estates of the Western Cape…
We are even being accused of turning a 'non-issue' into a major one by some people in the Western Cape who don't have to sleep outdoors with their children in the West Cape winter tonight.
Source:  IOL News