As #Conmunists, ANC Puts Big Government Above Human Rights Like Water, With Layers of Control Creating Corrupt Unaccountable Cadre Deployment Jobs, Gross Inefficiency & Bankruptcies!
SA is not an idiocracy anymore, nor is it a failed state, it is now a Socialist State captured by the elitist gangsters that rule and plunder it, as can be seen in the ANC controlled Free State where water shedding looms, as ANC controlled Bloemfontein's water pressure is to be cut, because 3 ANC controlled municipalities owe ANC controlled Bloemwater more than R1 Billion! But then bankruptcy, like corruption, is a "capitalist" word and thus irrelevant to the ANC, especially if you are spending someone else's money…
To be clear, Ramaphosa has repeatedly revealed his ideology, but we've either ignored or disregarded it, or heard what we wanted to hear. Ramaphosa is a committed Socialist and his address at the Centenary Celebrations of the birth of Nelson Mandela on 18 July 2018 (see below), was unambiguous. Ramaphosa has certainly never referred to himself as a free marketeer or capitalist or 'pro business' even, and his praising of mandela for having seen the light of communism, and letting it shape mandela as a leader, suggests Ramaphosa is even more of a Communist than mandela, but just like mandela, he has to hide it from the world. Ramaphosa constantly refers to the NDR, which is a blueprint taken straight from comrade Lenin's copybook!
The ANC in its blind commitment to implementing Socialism, has a deliberate strategy to create layers of different authorities, all controlled by its own cadre network, something Ace Magashule implemented so well in his time as Premier of the Free State, with predictably disastrous consequences. Bloemfontein municipality has Bloemwater as it's water supplier and Centlec as it's electricity supplier. Of course all of them are ANC cadre controlled, but Bloemfontein Metro owed Bloemwater an astronomical amount of R760 million for water at the end of January this year. Now the ANC controlled Bloemwater has told the ANC controlled Bloemfontein Metro that they will reduce the water pressure to the Metro to about 30% on 10 April! The ANC controlled Bloemfontein Metro is still under administration because it is bankrupt and another ANC cadre was appointed as the administrator. He is Adv Mzwake Mofokeng who did not answer his phone when phoned by Netwerk24.
Another ridiculous situation is that the ANC controlled Kopanong municipality in the southern Free State, which serves towns such as Reddersburg and Trompsburg has notified Bloemwater that it won't extend its own contract with Bloemwater, for the provision of water to the municipality. Bloemwater has installed equipment in that municipality that they use to deliver water to the municipality. So the Lord alone knows where that area will get water from in future. Maybe Kopanong  just intends to use the water and not worry about paying or don't think about the day of tomorrow, as is #TheAfricanWay.
Kopanong is currently not paying Bloemwater for water either as can be expected, and another municipality not paying is Mantsopa which incorporates towns such as Tweespruit, Excelsior and Ladybrand. Together these 3 municipalities owe Bloemwater more than a R1 Billion according to sources which Netwerk24 spoke to. Dr Limakatso Moorosi, the CEO of Bloemwater, told Netwerk24 that the water provider can't proceed with planned projects because municipalities don't pay. The future of the Free State looks dark and dry under the ANC ever since Ace Magashule was appointed and turned it into a Socialist gangster state a decade ago, like a mini Venezuela.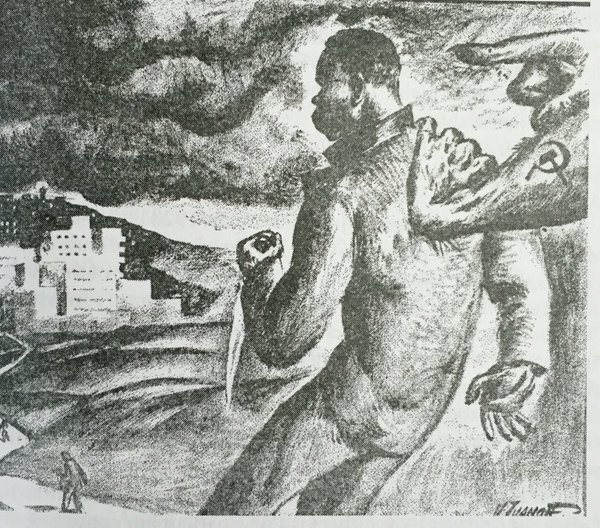 "A DEFINING MOMENT IN HIS [MANDELA'S] POLITICAL DEVELOPMENT WAS WHEN HE WAS ABLE TO OVERCOME HIS HOSTILITY TOWARDS THE COMMUNIST PARTY OF SOUTH AFRICA. THROUGH HOURS OF INTENSIVE ENGAGEMENT (manipulation) WITH COMRADES LIKE WALTER SISULU AND MOSES KOTANE, MANDELA CAME TO APPRECIATE THE CONTRIBUTION OF COMMUNISTS IN THE NATIONAL DEMOCRATIC REVOLUTION. HE CAME TO UNDERSTOOD THE CLASS CONTENT OF THE NATIONAL STRUGGLE AND THE NATIONAL CONTENT OF THE CLASS STRUGGLE. THIS MOMENT IN THE EVOLUTION OF HIS POLITICAL THOUGHT IS INSTRUCTIVE, BECAUSE IT DEMONSTRATES THE EXTENT TO WHICH EVEN THE GREATEST LEADER IS SHAPED BY THE CIRCUMSTANCES OF STRUGGLE, BY THE MOVEMENT AND BY THOSE AROUND THEM."  –  Cyril Ramaphosa, 18 July, 2018
Ramaphosa's unashamedly complimenting Mandela's being manipulated into adopting a totalitarian ideology that has been revealed as genocidal and unsuccessful on countless occasions, is very revealing. However Ramaphosa never mentions the advice Mandela received from China at Davos, forty-odd years later, namely, that a socialist economy would be a disaster.
Ramaphosa has frequently mentioned his ongoing implementation of 'The National Democratic Revolution' (NDR) whose roots go way back to Lenin's 1917 Theory of Imperialism! But when "capitalists" offer bailouts or handouts, who are they to say no eh?

See also: May 1st is Communism Day. Let's Remember the Victims of Communism and ask Where are the Nuremberg Trials for Communism?
---