Be Alert! Real Criminals, Chancers & Even Those in Authority Are Taking Advantage of Lockdown & Bheke Cele's Distraction With Misdemeanor Crimes!
#TotalitarianTimes Never before has your state of readiness and preparedness been so important. If you have a gun locked in the safe, now is the time to take it out while you are at home during lockdown, just keep it away from bored kids. It is clear that criminals are not obeying the lockdown regulations, and farmers & city dwellers alike are increasingly falling victim to this, even as Police and Armed Forces are also abusing their new totalitarian powers in greater numbers, and are also committing crimes themselves, while Police Minister Cele distracts everyone with CoronaVirus misdemeanors. The joke is that awaiting trial criminals are being released due to COVID19, so the message to criminals is loud and clear… it is open season!
According to the Transvaal Agricultural Union (TAU SA) there is an apparent increase in theft of agricultural products nationwide, such as crop, feed and livestock theft, while cable theft is also increasing in certain areas and frustrating farmers' production. TAU SA's Northern Region chairman, Mr. Henk van de Graaf said "What worries us further is the fact that farm guards and CPFs are explicitly prohibited by the Minister of Police from continuing their normal patrols and crime prevention, while the police are currently focusing on other matters, this means that the rural areas are now unsecured. Criminals know this and are taking advantage of the situation."
TAU SA is also concerned about the police's focus on, among other things, people who want to buy liquor or tobacco products and even persecutes them unreasonably harshly, while there is almost no policing of real thieves who threaten food security. While TAU advises people to increase vigilance on their own farms, the strength of the farm guards system lies precisely in the mutual cooperation and efficient communication in the coverage of larger areas than just their own farm. Public roads, which often allow access and criminals' escape routes are also not being patrolled.
These rural areas are now deserted, which of course welcomes the rural thieves because the police and army are too busy with people who disregard the containment measures. However this could explode in the regime's face due to the brutality with which police and army members treat those caught. This however could be an attempt at a deterrent because police have to employ a catch and release system, ever since Ramaphosa ordered people caught committing misdemeanor crimes, to be released. So the public are not being protected at all.
"After the severe drought and the agricultural industry's paralysis due to foot-and-mouth disease, farmers can not afford uncontrolled theft of their products because the minister of police is making irrational decisions," said Mr. van de Graaf.
"Farmers are now beginning to see their farms as disaster areas, and are going to institute their own emergency measures against any suspicious entry or movement on the farm," he warns. "It will not be to the benefit of anyone, and we urge the provincial government to take up the matter urgently with the national government in order to get a quick review of existing assignments in this regard. We can't go on like this for another three weeks."
On too many occasions we have seen police and army members involved in unacceptable brutality with which people are being treated, and now there are serious warnings that the action could endanger the government. If the police brutality is not thoroughly investigated, it could lead to a series of court cases. Observers point out that the actions of army members also show that no training was given, except that the president directed a cautionary word to warn in advance that they should be gentle with offenders. Clearly the ANC policy of using violence to achieve their aims is still deep seated, as the security forces and the regime have apparently not yet reached the point of moving away from the violence they have been clinging to, to deal with perpetrators in the last 25 years.
The ANC regime has also not bothered to excise the criminal elements from its ranks, but rather seems to shelter them. The Minister of Police himself was fired for corruption as Police Chief in 2013. So it should be no surprise that at least seven police officers have been arrested and charged for their involvement in a burglary attempt at a liquor store. The police officers were arrested in Bonnievale and appeared in court for a first hearing on Tuesday. National Police spokesman Brigadier Vishnu Naidoo confirmed the arrest and said the officers had broken the law and therefore justice would be applied.
Like a modern day Prohibition, liquor sales are banned during the lockdown period, and the return of their sale is now being advocated for by a group in the Central Transvaal, which even threatens to approach the court if the government does not lift the ban. In the meantime, it has been established that illegal liquor trading is widely practiced by individuals who break into liquor stores, as befits a Gangster State.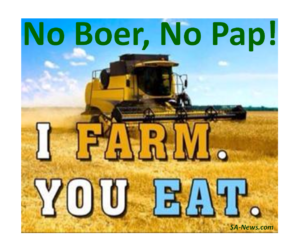 See also: Even in Lockdown Blacks Continue To Burn Down & Sabotage Their Own Schools! Education MEC Panyaza Lesufi Blames Syndicates Without Giving a Motive? More Handouts or to Force Black Kids into White Schools Maybe?
---