Brave Farm Attack Victim Put Up Incredible Fight To Survive, To Live To Tell Her Horrendous Tale in Court, of Cowardly Psychopathic African Barbarism…
The magistrate has begun with his summary in the criminal trial of three farm attackers involved in a farm attack in Bronkhorstspruit that dates back to May 2013. This was as vicious and brutal as can come and victim has to relive the horror, in court and when physically identifying the perpetrators in a line up. There were thousands of other attacks just like this one over the years, many victims did not make it. So please share this article and give your own experiences in the comments section.
Gail Adlam (now 69) woke up during the night on 17 May 2013 with the thump-thump sound of thick white PVC pipes raining down on the head of her husband Leslie (now 71). He was knocked unconscious and never even got up. Gail was pulled from the bed and hit and was kicked so viciously by THREE black men that she was sliding in her own blood. Three black men versus one already injured white woman…
One attacker tied a pipe around her neck twice, attempting to strangle her. When the attacker tried to tie the pipe around her neck a third time, she bit it with her teeth. The attacker then tried to strangle her with his arm. She bit him and that led to her being mercilessly beaten and kicked. Her one eye was totally swollen up and the other eye was bleeding, but she could still see through the blood how one of the attackers was jumping on her husband's head with his heavy boots.
The attackers also burnt Mrs Adlam with a hot clothing iron on her back and her husband on his head, despite the fact that he was already unconscious. She had by that time already showed them where the safe keys were, but they didn't even give her a chance. Two attackers eventually went to the safe whilst one, David Sibanyoni, kept trying to kill her. He tried to strangle her again with an electrical wire and she fought back, after which the other 2 attackers returned and she was taken to where the safe was where an attacker, Sam Thabethe, took a shotgun out of the safe and pointed it at her.
She was then hit over the head with the shotgun and then tied up. The attackers then left and fled with the couple's car. Mrs Adlam managed to get herself loose and called for help. The couple was then taken to hospital. The other accused before court is Lucky Mabona. The case was postponed…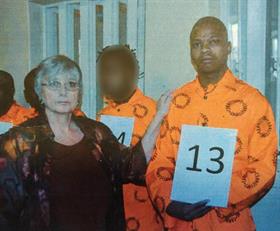 This brave women fearlessly identified her attacker.
See also: Farm attack: House robbery, attempted murder, Waterpoort – 2020 not yet in full swing but white South-Africans are already being slaughtered and attacked by brutal savages
---