European Union and Pope MURDER another 700 migrants in Med as Dutch handout €10,000 bribes to migrants for "shopping" in Netherlands
The supremacist European Union and pro muslim migrant Pope MURDERED another 700 migrants in the Med this week as Dutch handed out €10,000 in "bribes" to migrants for "shopping" in Netherlands, whilst "Christian" Pope encourages the Islamification of Europe.
Outrage as Dutch authorities give up to €10k to refugees to 'go shopping' while another 700 "refugees" attracted by these EU bribes die in capsized boats in Med.
Three separate shipwrecks in the Mediterranean south of Italy in recent days are thought to have claimed the lives of more than 700 people, officials from the UN's refugee agency said.
The information appeared first on the Twitter of spokeswoman at UNHCR South Europe, Carlotta Sami.
"Sunday counting victims. Macabre exercise" she wrote.
Meanwhile some Dutch residents are outraged after finding out that a few cities have been offering as much as €10,000 to migrants to buy furniture and other "necessities", local media reported.
Asylum seekers who get allocated to certain towns in the Netherlands may get as much as €10,000 to buy furniture for their homes, according to research carried out by the daily Brabants Dagblad (BD).
Talking to the local authorities, Brabants Dagblad found the sum of money varies in different municipalities.
While Oisterwijk, South Netherlands offers as much as €10,602 for a family with two children, in other cities, such as Bernheze, Schijndel Veghel and Sint-Michielsgestel the same family may receive around €3,500. Boekel offers the smallest amount of €2,200.
BD also said that some cities require refugees to pay the sum back although they would sooner disappear, while others, such as the most generous Oisterwijk consider the money "a gift."
Leader of the Party for Freedom (PVV), Geert Wilders said the whole situation is "discrimination" against Dutch residents, urging Dutch Deputy Prime Minister Lodewijk Asscher and the public prosecutor to address the issue.
"Hey Asscher and Public Prosecutor, why don't you address this discrimination? For a 'refugee' but not for the Dutch?" he tweeted.
On social media many slammed the government calling its decision "ridiculous" and "idiotic."
"What a terrible signal to those people … free this free that," one user said on Twitter.
Oisterwijk in particular faced criticism for "playing Santa Claus" to refugees while some of its residents are living below the poverty line, according to comments.
The BD report cited several charities as saying that €2,000 were a reasonable sum for a family to get on its feet in the Netherlands. An IKEA spokesman estimated that with €10,000 euros one could buy plenty of nice furniture at the shop.
This comes as one of the deadliest migrant accidents took place on Thursday. At least 550 asylum seekers went missing. The boat, carrying about 670 people, left the Libyan port of Sabratha a day earlier and had no engine. It was towed by another smuggling boat, Sami added.
At least 104 people managed to survive: 25 reached another boat and 79 were rescued by international patrol boats. At least 15 bodies of migrants were recovered.
Italian police managed to identify the commander of the boat with the working engine with the help of survivors. They said he was a 28-year-old Sudanese man, who had already been arrested.
The scale of the problem created by EU is 'Shockingly large' with the number of migrants in the Med pushing the German Navy to its limits.
In yet another accident on Friday, rescuers saved 135 people, according to Sami. Some 45 bodies were recovered. The exact amount of people on board is as yet unclear.
The survivors were transported to the Italian ports of Taranto and Pozzallo, Sami said, adding that the UN is planning to speak with them and gather information about the sunken boats.
Pro migrant UNHCR spokesman Federico Fossi confirmed the report yet seemed unaware of their complicity in the tragedies.
"The situation is chaotic, we cannot be sure of the numbers, but we fear up to 700 people may have drowned in three shipwrecks this week," he told AFP.
According to pro migrant Doctors Without Borders, about 900 people might have drowned in the Mediterranean.
The number of refugees trying to reach Europe across the Mediterranean is increasing rapidly. According to the UN's International Organization for Migration Refugee Agency (IOM), an estimated 190,000 people have crossed the Mediterranean in 2016. Of them, nearly 156,000 came to Greece and 34,000 to Italy, with 1,375 people considered missing or dead.
The unending flow of migrants to Europe is caused both by some contextual factors such as wars raging in the Middle East and the enticement created by these promised handouts and welcoming messages sent by irresponsible leaders like the Pope and EU, as well as an exploding population in Africa and Asia. These handout are very quickly communicated to friends and family back home and the human traffickers make larger profits.
All part of the European Union's plan to create a larger European Superstate using forced migration and the resultant multiculturalism as a weapon to destroy the naturally resistent Nation Sates and their identities. The much vaunted lie of workers being needed by business and complicit mass media is debunked by the fact that these migrants do not work, rather living off the benefits they are offered and they do not integrate either.
Professor Kees Van Der Pijl from the University of Sussex, UK, also warned that the situation with refugees and migrants is on the brink of getting totally out of control due to some global socio-economic "trends".
"At some point, the objective situation as it is becomes almost impossible to manage and I think that we are in that situation. There is a massive surplus of population in the areas where it is no long possible to live a decent life and the people, who are displaced there are pushing towards Europe," he stressed.
Speaking about the causes of the crisis, the professor sharply criticized the NATO operation in Libya that has led to the toppling and eventually murder of the former Libyan leader Muammar Gaddafi.
"As far as North Africa is concerned, removing Gaddafi in Libya was the most ill-conceived step that one could take in light of the flow of migrants from Africa. The first thing, the EU, NATO, etc. should have not done is to intervene in Libya," said Van Der Pijl.
He also criticized Angela Merkel's welcoming policy by saying that her statements in fact encouraged lots of people to take the risky road in attempt to reach wealthy and hospitable Europe.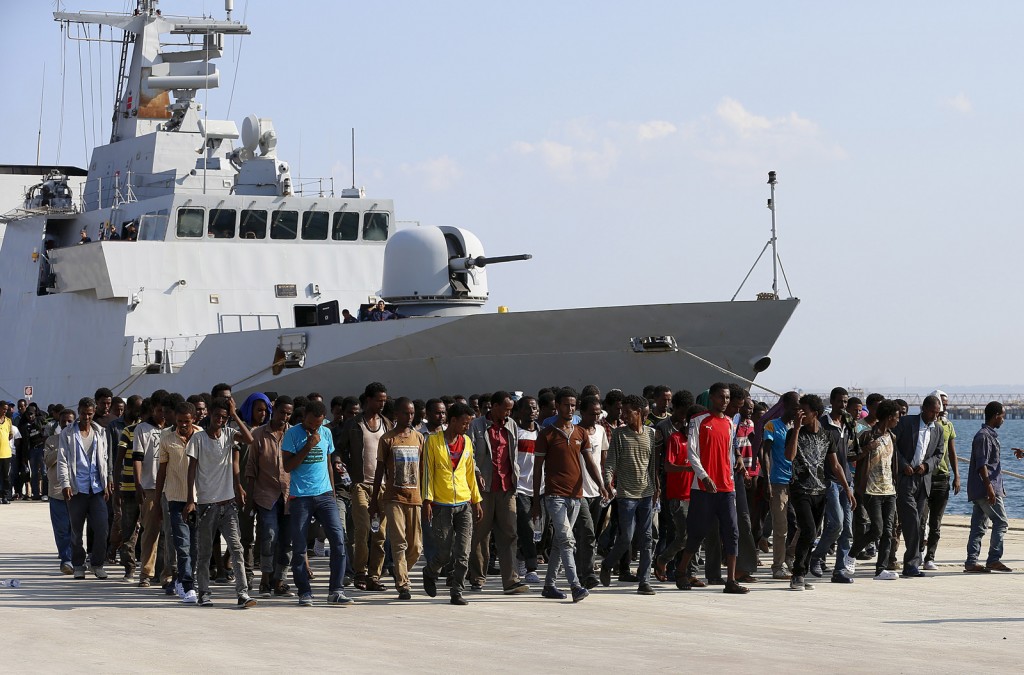 ---
See also: Big Business and MultiNationals ARE THE ENEMY, Driving Mass Immigration, Multiculturalism, Destruction of Sovereign Borders etc.
---