Even in Lockdown Blacks Continue To Burn Down & Sabotage Their Own Schools! Education MEC Panyaza Lesufi Blames Syndicates Without Giving a Motive? More Handouts or to Force Black Kids into White Schools Maybe?
Burning down their own schools has been a stupid part of black political expression for half a century and it is probably a good bet that these perpetrators are members of ANC youth league. It is certainly a trend when a fourth school in Gauteng has gone up in flames just during the lockdown conditions, despite supposed enhanced security conditions by the police and army to keep people in their homes! This brings the total to 22 schools in the province which have now been sabotaged, just in the 12 days of confinement. So what are they trying to achieve politically this time? Maintain their victimhood, tender fraud, or to force more "underprivileged" black kids in white schools, where education is treasured and respected, not used as a political tool?
This latest school to have been burnt was Soshanguve High, which was set alight in the early hours of Wednesday. Another school, Amogelang, also in Soshanguve, was set on fire on Tuesday. The fire was started in the administrative part of the school which is in Soshanguve's residential area. A government spokeswoman claims they do not know what is going on, and requests for security forces to protect the schools have apparently not been successful and observers say the government should order security forces to provide 24-hour protection to all schools in the province.
MEC of Education Panyaza Lesufi, well known for his hatred of Afrikaans and white schools, claimed they were dismayed about what is happening, but his reaction seemed almost staged, for an otherwise over confident, sometime aggressively "know it all" ANC official to admit not knowing something, is unusual…
"We really don't know what is happening in Soshanguve. We are dismayed to report about yet another school destroyed by fire, worse within few days in the same area."
"This is worrisome, it looks like same modus operandi is used. We are tempted to believe that there is a syndicate operating in the area." Lesufi said.
Lesufi was set to visit all the torched schools in Soshanguve on Wednesday, which can only mean the burnt schools are part of his political agenda, whatever that may be…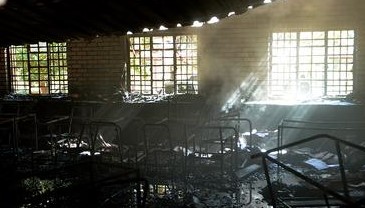 Read also: Racist Lesufi once again disregards rights of Afrikaans-speaking communities in Combined School in Cullinan
---