Farm Murders More Deadly Than #CoronaVirusSA With Two Murders in Two Days, Yet its Ignored by Mainstream Newspapers & TV Who Only Pander To Black Majority!
#COVID19 in South Africa  has a long way to go to be anywhere near as deadly as farm murders, as another 2 white farmers have been murdered within 48 hours of each other. Collin Leslie Britz (65), from Dundee in KZN, and Charles Hart (75), from Henderson in Eastern Cape were callously murdered – all that was taken was weapons. As usual the murders were totally ignored by liberal news outlets, although they do seem to have a lot of time to report on trivial matters concerning celebs  & gossip etc. Liberal news media seem to take their orders from Ramaphosa and have never taken the matter of the murders of white farmers, and the associated threat to food security, seriously.
The ANC regime and mass media like News24 continue to be in denial and mostly ignore it, and don't think it's newsworthy when white farmers are brutally butchered on their farms, unless maybe the murdered farmer comes from the affluent Cape Winelands region.
Collin Leslie Britz, 65, who farmed on Craigmillar in the Elandskraal area, Dundee in Kwazulu-Natal, was found in his home with a gunshot wound to his head at 4pm on Monday, 16 March, 2020, said police spokesperson Captain Nqobile Gwala. She said he was attacked by unknown suspects and his rifle and a pistol were also stolen. Britz was a bachelor and lived alone on the farm.
The chairperson of the Umzinyathi farmers union Herman de Wet said Britz came back from the town at 2pm. He was informed by his staff that cattle were short, so he then took two of his workers and dropped them off near the grazing area to look for the cattle. Britz then returned home.
Two other workers were working at the fence 300 meters from the house and the domestic worker was also on the farm. It's unclear if the criminals were waiting for him but Britz appeared to have been having a cup of coffee when they pounced on him. There appears to have been a struggle. He put up a fight as his hands were bruised. The workers heard the shots and went to investigate and they found him a short while later in his house where he was dead from gunshot wounds.
A case of murder was opened at Helpmekaar SAPS and Police are appealing to anyone who might have information about the suspects involved to contact their local police or Crime Stop on 08600 10111.
In the other farm murder, a sheep farmer who also stayed alone, Charles Hart (75), was also brutally murdered on Saturday night  14 March or in the early morning hours of Sunday 15 March on his farm in the Henderson area, near Toise, between Cathcart and Stutterheim in the Eastern Cape. A neighbour who went to visit Hart on Sunday morning discovered a gruesome murder scene when he found Hart's body in his home. Hart was beaten to death and one can hardly imagine the horror his last moments of life were, as it also appeared like the group of murderers held a party by drinking alcohol after the murder. All that was missing was Hart's Land Cruiser bakkie, which was later found burnt out and a firearm from the house. You have to wonder why a Land Cruiser has no value to the farm murderers, but a firearm does…
And so the murders of innocent white farmers and productive and law abiding members of the white community continues day after day and month after month, whilst it is almost never mentioned in the liberal mainstream media and whilst the President of the country, and his Police minister would sometimes visit a non white family who lost somebody to a crime, but never, ever a white family. In South Africa  official sympathy from the black rulers and mainstream media are reserved only for the non white majority.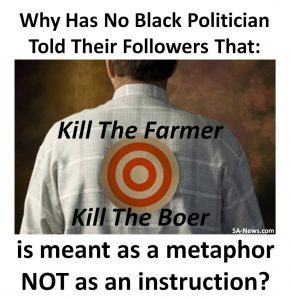 See also: Small-scale White Farmer & Friend Executed With Hands Tied & Throats Slit Near Maclear, Eastern Cape! Three Black Males Arrested.
---