#FARMATTACK: Thugs 'In Cheerful Mood' After Leaving Farmer For Dead – R512 Lanseria Road Agricultural Holdings – Broederstroom
Presumably, five thugs assaulted and shot 35-year-old Willem Joubert on a farm near Broederstroom in North West, and were apparently in a cheerful mood leaving the farmer for dead.
BROEDERSTROOM – R512 LANSERIA ROAD AGRICULTURAL HOLDINGS
A farmer, on the Lanseria Road Agricultural Holdings in Broederstroom, Willem Joubert (37) went to check on a beam activation when 5 black thugs seriously attacked and assaulted him. He was then shot in the upper body.  A bullet is lodged in his lung and will be removed as soon as his condition improves.  He is currently still receiving blood transfusions.
They tried to drag him up the stairs into the house. They then tied him up and left him next to the pool.
His sister (40) locked herself in the house and pushed the panic button. She escaped out the back door and ran to the staff for assistance. A staff member escorted her into the veld, helped her to climb through a gate, where she hid away in the veld.
The security company arrived and the thugs fled, taking a laptop, an ipad and cellphones.
Willem remains in ICU.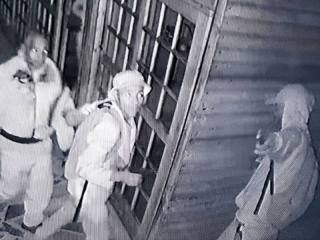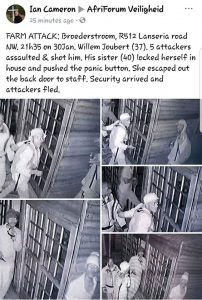 BKA