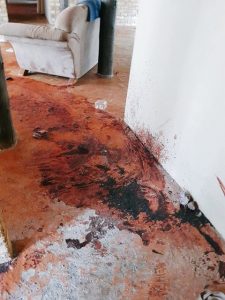 A farm worker was brutally killed on a farm close to Hammanskraal, GP. He was found with his trousers pulled down, a cloth wrapped around his head and a cloth stuffed in his mouth. Furthermore, his hands were tied behind his back with wire. The farm worker was hacked to death with what seems to have been a panga (machete) whilst he was tied up.
Looking at the picture displays the brutality and the agony this man went through.
Desperate times in South Africa while the ruling ANC Government and the new President Ramaphosa remain silent.
It has s been continuing for far too long!
By Ian Cameron – Afriforum/15th February, 2018