Genoeg gehad van Volksmoorde en aanvalle!!
Genoeg gehad van Volksmoorde en aanvalle!!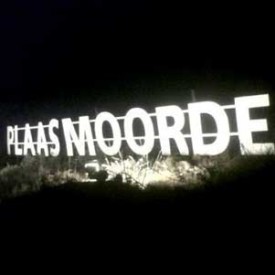 Na n paar plaasmoorde binne n bestek van 6 maande, besluit die dorpie Vrede, dit is genoeg!!
Daar is n optog gereel vir Vrydag 18 September 2015 om op te staan teen Plaasaanvalle, Misdaad en Geweld teen die Boere en die Volk!!
Ons sal om 13:00, by Vrede Veilingskrale bymekaar kom. Teen 13:30 sal ons van daaraf n stille optog deur die hoofstraat van Vrede hou (Met voertuie, perde of u kan stap). Ons beplan om teen 13:50 by die NG Kerk te wees. Ds Combrink van die AP Kerk sal vir ons met Skriflesing en gebed open. Daar sal n krans gele word ter nadenking aan almal wat in aanvalle of enige vorm van geweld, betrokke was.
U is welkom om plakkate te maak en saam te neem. Daar is gevra dat ons nie met vlae mag kom nie.
Ek glo ons sien u daar!!
Vir meer inligting, kontak Dawie Pieterse 0844015306.
Die tyd om op te staan en sigbaar te word vir die Boervolk is nou!!