Open Borders Kill! Mozambican Gardener WANTED As Suspect in Brutal Execution of Elderly Port Elizabeth Couple
It has become a regular news items in the New South Africa to hear that, especially vulnerable old people, have been murdered by the gardener or domestic help. Andre Saaiman (65) and his wife Lidia were murdered in early November 2017 in their home in Scott Street, Somerstrand, Port Elizabeth, but its only now, TWO YEARS later that the Police issued an international arrest warrant for their Mozambican gardener at the time, Ezequiel Carlos Cossa (26).
His location, whether he is in Mozambique or South Africa is unknown, given the porous border which the ANC regime is deliberately neglecting. According to the state prosecutor, Adv Marius Stander , it became clear that Cossa was the right suspect in November 2017, after which the process began to apply for an international arrest warrant.
Cossa stayed in a caravan at the couple's home at the the time and on the morning when the bodies of the couple were discovered, Cossa was missing but the door of the caravan were open. Adv. Stander says he is confident they have the right suspect. The bodies of the Saaiman couple were discovered in the study room of the house on 6 November 2017 when somebody was looking for the couple. It was premeditated murder and an execution because the couple was found with their hands tied with cable ties. There was an axe lying close by which the suspect used to beat Mr Saaiman over the head with and Mrs Saaiman was strangled.
Their bodies were only discovered after lying there for a day. The house was ransacked and a '38 revolver, money and cellphones were missing from the house. Especially old people should STOP using gardeners at their house and rather use alternatives like family, garden services or there will be more murders like this…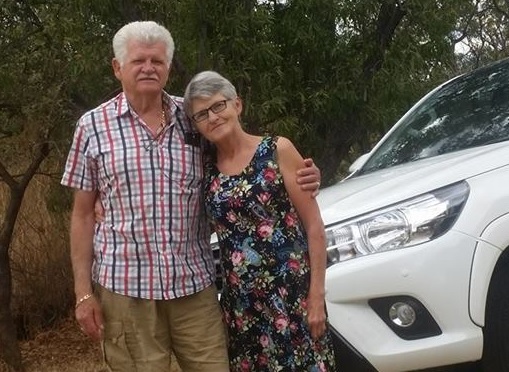 Innocents: Andre Saaiman (65) and his wife Lidia were murdered
See also: A 'Misunderstanding', and we have to believe that, leads to gardener stabbing employer five times in Alberton
---