Swartes aangemoedig om blankes te martel en te vermoor
Die sosiale media is aan die gons oor 'n inskrywing op Facebook van ene Tesh Ndlovu waarin hy swartes aanmoedig om blankes te vermoor en die wit ras uit te wis.
Ndlovu beskou dit as sy plig om elke blanke in Suid-Afrika uit te wis.
Die enigste manier, volgens Ndlovu, om rassisme uit te roei, is om die blanke ras uit te wis, so gou as moontlik.
"Ons sal blankes met geweld uit hulle huise dryf en sommiges sal verkrag, vermoor en gemartel word. Dit sal nie genoeg wees nie en ons sal die grondwet verander sodat geen straf, of 'n ligter straf, opgelê sal word vir swart mense wat wit mense vermoor, verkrag of aanrand. Ons kan pragtige en tradisionele kuns maak van die gebeentes en ander oorblyfsels van wit mense."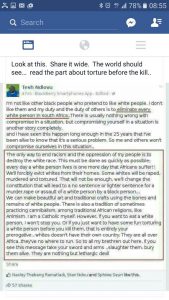 Verder sê hy dat hy niemand sal keer wat hulleself skuldig maak aan kannibalisme en wit mense sou eet nie.
Hy doen 'n beroep op sy swart broers dat indien hulle sy oproep sien, moet begin om witmense te slag of lewendig te begrawe. "They are nothing but lethargic devil."
Nadat skermgrepe van die boodskap geneem en versprei is, het verskeie mense klagtes by Facebook ingedien oor die rassisme, en sy profiel is daarna skynbaar deur Facebook gesluit.
Deur: Die Vryburger
---