Swindled Ratepayers Spend Half a Million a Month For 6 Klerksdorp Municipal Councilors, to Live Permanently in Guesthouse After Their Houses Were Burnt Down for Non-Delivery!
Minority forced to pay for those the majority elects! It is well known that municipal councilors in South Africa are earning an unrealistic monthly salary, plus perks and a pension plan to boot, even though their job is only part time! Despite their own incompetence in completing simple insurance forms, (or was it deliberate?), after protesters burnt down their houses for non delivery, which makes it all the more shocking, that the small Klerksdorp municipality (Matlosana Municipality), has now spent R3,3 Million since September 2019, to house 6 municipal councilors and their extended families in a guesthouse in Stilfontein!
Corruption, laziness and looting seems to have become part and parcel of the position of Municipal councilor, they now only have to listen to complaints from the community, but not actually do anything about the complaints, and attend the occasional meeting, where most of them sit and eat buckets of KFC chicken, (definitely true for parties like the ANC and EFF), and scheme on how to plunder you the taxpayers further with corrupt tenders and collusion…
The monthly amount being spent is R546,000 and still the end of this costly housing exercise is nowhere in sight. Mr Tonie Meiring, who is a Klerksdorp councilor himself, representing the Independent Taxpayer Association in South Africa, revealed all this, saying he estimates there are about 40 people in all who are part of the extended families of the councillors. Mr Meiring added that the municipality's financial affairs are in chaos, but that is not surprising as it seems to have become an actual part of the ANC's official municipal management strategy, it is so rife…
Fact is, these councilors are now a dead loss to the community and a drain on the poor ratepayers who have to finance their lavish existence. We should also remember that especially rural towns in South Africa are poor, yet these numerous black cadre councilors lord it over these poor communities, pretending that they are royalty and should be treated like the Queen and company from Buckingham Palace. If you take these guys away for 5 years, nobody would actually know they were gone, such is the extent of their uselessness.
Mr. Meiring says that the municipality claims that the riot insurer SASRIA would pay for damages to houses and the alternative accommodation, but that is just another lie from the councilors. The true situation is that SASRIA won't pay anything because 5 of the 6 councilors did not provide full details of damages suffered before the required cut-off date of 7 October last year. Municipal policy also states  that emergency accommodation in cases like this, can only be provided for a period of 2 months. Mr Meiring also says he is being ignored in the council and that the ANC, which is in power, plans to keep on paying for the guest house indefinitely
#TheAfricanWay is a vicious downward circle. They majority vote for ANC criminals, the ANC criminals then steal from the minority taxpayers and do not bother delivering services, then the community gets unhappy and burns houses, councilors then stay in luxury and next election the black population vote ANC again. The madness will never stop.
Business people don't deliver goods to the municipality because the municipality don't pay their accounts on time, if at all. The houses of the 6 councilors were burnt down during protest riots in September 2019 due to the fact that the black population was angry because the municipality and councilors did not deliver. Now the councilors stay in luxury and they still don't deliver!
To give you an insight into the corrupt dealings of the Matlosana municipality in Klerksdorp, in North West province, it got a new mayor 13th November 2018. The new mayor, who was a former council speaker, Washington Ntozini, was elected by some ANC councilors who colluded with opposition parties, during a special council meeting. This was after the removal of former mayor, Maetu Kgaile three weeks before, through a motion of no confidence sponsored by the EFF. The election of the new mayor was done against the ANC PTT's directive which wanted to have Kgaile reinstated. A week later and the ANC got their way, and Maetu Kgaile was re-instated as Matlosana mayor after being removed four weeks earlier, following a vote of no confidence. The action saw ANC councilors joining the opposition in the motion… yes, it leaves ones head spinning…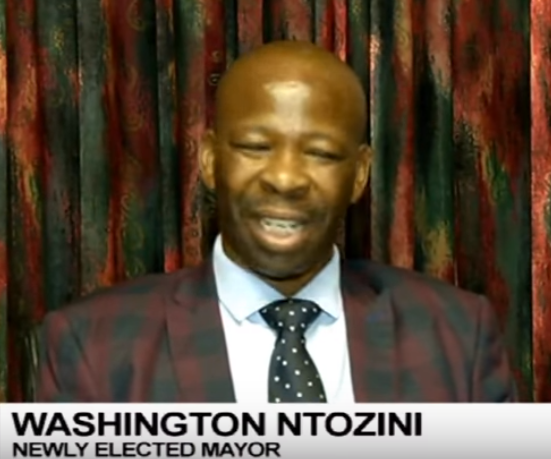 See also: #StateCapture 2.0: Ex SA Ambassador To Italy, Tembi Tambo, Oliver Tambo's Daughter, Linked to Government Pension Fund Plunder! PIC Pays 28 Times More Than Market Price For Bare Undeveloped Land!
---