Verbode Waarheid 12: Hitler stuur Otto Skorzeny om Mussolini te bevry en Brittanje begin om Duitse woonbuurte snags te bomb
Hitler chooses Otto Skorzeny to free Mussolini, while Britain starts carpet bombing residential areas of German Cities at night (Operasie Gomorrah)
Breaking Mussolini out: The daring Prison Break by the most Dangerous man in Europe, Otto Skorzeny, is codenamed "Operation Oak". Hitler personally chooses 3 Men to free Mussolini before he is handed over the the US. The daring Prison Break has an 85% chance of a failure and fatal death, yet they pull it off in under 12 minutes with no shots fired!
This very powerful segment also exposes the indoctrination concerning those iconic images of people being 'herded into cattlecars'. Many were in fact German refugees fleeing their own cities, that were being bombed by the allies.
Operation Gomorrah, the Bombing of Hamburg where the Americans would bomb strategic installations, railways, business's during the day, and then at night the British would bomb the tightly knitted residential homes.
The attack during the last week of July, 1943, created one of the largest firestorms raised by the RAF and USAAF in World War II, killing 42,600 German civilians and wounding 37,000 in Hamburg and practically destroying the entire city.
This would be known as Germany's Hiroshima. 1 Million refugees were forced to leave their homes because the city had been demolished. The allies had hoped this would break the Germans and they would be forced to rebel against their Fuhrer, but it had the opposite effect.
Neville Chamberlain had severe pressure from World Jews and America on driving Great Britain into World War 2. Before he died, he revealed America and World Jews forced Britain into war against Germany (mentioned in The Forrestal Diaries from 1945.)
But one of the most honorable things about Chamberlain was that he was a pronounced opponent of the use of the bomber as a weapon of terrorisation (mentioned in David Irving's book "The Destruction of Dresden" (1995), Page 7-8).
With Chamberlain, he had a public guarantee to respect German civilian lives. This applied till the last day of Chamberlain as the Prime Minister of Great Britain (May 9, 1940).
But when the Anti-German monster Churchill became British prime minister on May 10, 1940, the British government now publicly proclaimed that it reserved the right to take whatever action it considered appropriate in the event of German air raids on civilian populations.
So the cabinet on its very first day of office under Mr Winston Churchill, the new prime minister, was able to dispose of Mr Chamberlain's public guarantee to respect German civilian lives (David Irving's "The Destruction of Dresden" (1995), Page 8-9).
That was the beginning of the horror on German civilian lives which resulted in horrors like Operation Gomorrah (the bombing of Hamburg) in 1943, and the bombing of all German cities (Dresden, Rotterdam, Berlin, etc.).
Churchill was both Anti-German and Anti-Indian. This is evident when Churchill called "Indians (India) as the beastliest people in the world next to the Germans." Mark Weber speaks on Hitler (Time – 26:00-27:15)
Dear Pope: The Auschwitz Holocaust would require 30 people to be forced into a telephone booth on a physically impossible schedule…
It is ridiculous to imagine, and above all to pretend, that 24,000 people could have been gassed at Auschwitz each day – in batches of 3,000 at a time – in a room of 400 cubic metres. Still less could this have happened, in batches of 700 or 800, in buildings with a floor space of 25 square metres and a height of 1.9 metres, as has been claimed with regard to Beizec.
Twenty-five square metres is equivalent to the floor space of a bedroom! Would you succeed, Most Holy Father, in putting 700 or 800 people in your bedroom? Seven hundred to 800 people on 25 square metres works out at 30 people to the square metre. A square metre 1.9 metres high is the size of a telephone box! Can you picture, Your Holiness, thirty people piling into a telephone box in St. Peter's Square or at the Great Seminary of Warsaw? Or on a simple shower stand?
If the miracle of thirty human bodies planted like asparagus in the goldfish bowl of a
telephone-box, or the one of the 800 people crowded around your camp-bed, had ever been realised, a second miracle would have immediately been indispensable.
Otherwise the 3,000 people – the equivalent of two regiments -crammed together so fantastically in the Auschwitz chamber, or the 700 to 800 people piled up at Belzec (on account of having 30 occupants to the square metre), would have perished almost immediately as they would have been asphyxiated by the lack of oxygen!
There would not even have been any need for gas! Before one had finished piling up the last arrivals, bolting the doors and dropping the gas into the room, most would have already stopped breathing! ZyMon B would reach only corpses. (This gas was supposedly either dropped into the room through slits,, through holes, by chimney, in the form of hot air, in a vapour, or was discharged along the ground: you can take your pick)
As anyone interested in science can find out, this Zyklon B was, in any case, flammable, adhesive and dangerous to use. A twenty-one hour wait would consequently have been necessary, even indispensable, before the first corpse was pulled out of the wondrous chamber.
As has been related to us with great pleasure and a thousand spicy details, one would then have been able to extract all the gold teeth and all the filled teeth, the latter being prudent hiding-places for diamonds! This would supposedly have been done to each batch of 6,000 rigid jaws (3,000 people) which death had drawn together, and to 48,000 jaws each day – if one believes the official figure of 24,000 gassed everyday in Auschwitz alone!
— Leon Degrelle, Commander of the Belgian Volunteers on the Eastern Front, LETTER TO THE POPE ON HIS VISIT TO AUSCHWITZ, 20th May, 1979.
Here's the link, in case anyone wants to read completely:
http://www.vho.org/aaargh/fran/livres4/tothepope.pdf
Dié baanbreker dokumentêr kroniek die opkoms van Duitsland van nederlaag in die Eerste Wêreldoorlog, deur kommunistiese pogings om Duitsland oor te neem; hiperinflasie tydens die Weimar Republiek, wydverspreide werkloosheid en ellende, en Adolf Hitler se aanleiding tot krag.
Dit wys ook 'n persoonlike kant van Adolf Hitler: wie hy was, sy familie agtergrond, sy kunswerk en stryd in Wene en wat hom gemotiveer het hom aan bewind te kom.
Daar is so baie goed weggesteekte geskiedenis te vertel; FDR Pearl Harbor sameswering, Sowjet-brutaliteit en verraad aan alle kante. Weet ons werklik wat die ware koste van oorlog is? Het ons regtig al die feite tot ons beskik?
Kyk na hierdie reeks en ontbloot die ware oorsake van die Tweede Wêreldoorlog. Doen jou eie navorsing en besluit wat jy kies om te glo. Dink Anders…
Vir die volgende 26 weke gaan SAUK Nuus elke Sondag terug kyk na geskiedenis wat ons nie mag sien nie. Ons volk het almal duisende ure se programmering bekyk op TV en massa media, wat deur die oorwinnaar geskryf is. Dit is dus net regverdig dat die anderkant van waarheid ook beskikbaar moet wees, die storie van die verloorder…
Sedert die middel van die 20ste eeu, het die wêreld nog altyd net een kant van die ongelooflike storie gehoor. Die verhaal van 'n seun van 'n gewone gesin wie se ambisie dit was om 'n kunstenaar te word, maar wat in plaas daarvan 'n swerwer geword het.
Sy lot was egter nie om weg te dryf in die vergetelheid nie, maar om te styg tot die grootste hoogtes van krag, uiteindelik om een van die mees invloedrykste mense wat ooit geleef het te word.
Nou vir die eerste keer, hier is 'n gedokumenteerde verslag van 'n storie wat baie glo, die grootste storie wat nooit vertel was nie!
Don Deon
Kyk die reeks so ver hier: Verbode Waarheid – Die grootste storie wat nooit vertel was.
---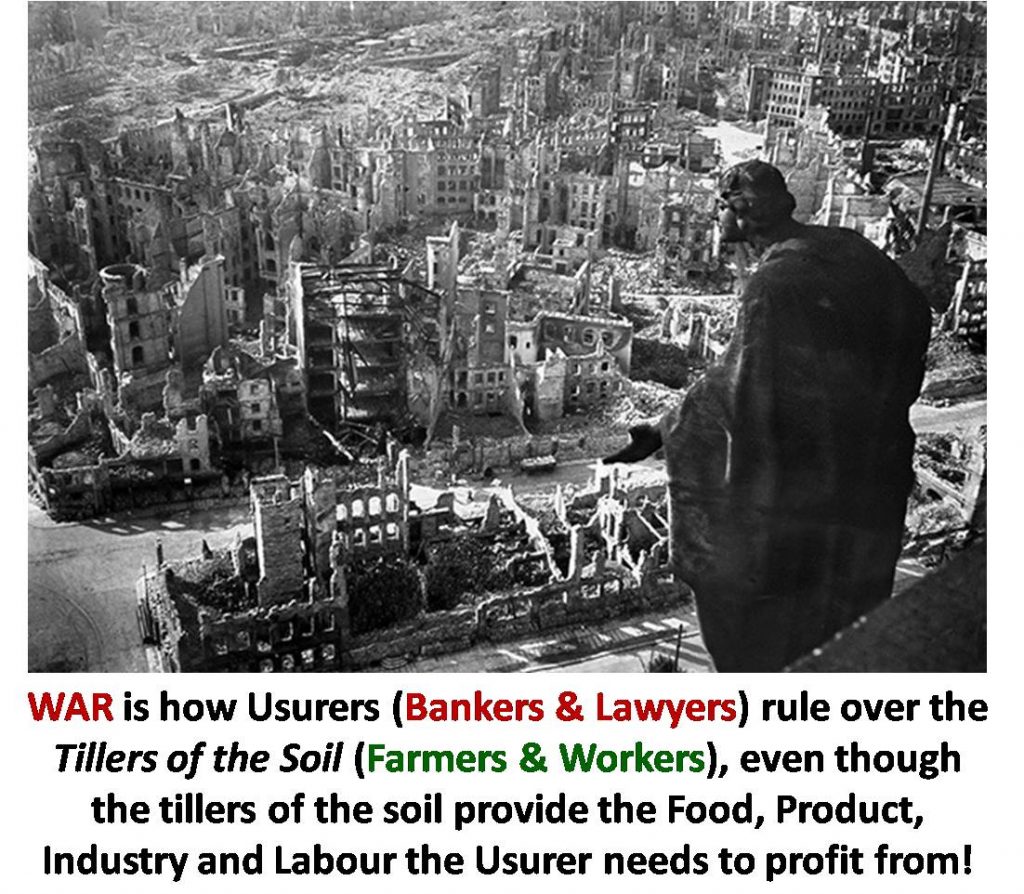 ---