Verbode Waarheid 16: Amerika oortree die morele grens en bombardeer burgerlikes wyl Stalin miljoene Pole, Duitsers en selfs Russe slag en verkrag
Die Verraad van die geallieerdes en die Bombardering van Burgerlikes deur die Amerikaners en Britte; Stalin slag miljoene Pole, Russe en Duitsers in 'n gruwel volksmoord wat tot die dag nog nooit amptelik ondersoek is.
Churchill het Stalin bygestaan en befonds sodat Stalin sy pad Wes geslag het met sommige van die mees gruwelike oorlogsmisdade wat nog nooit tot dusver aangespreek is nie. Als gefinansier deur die Britse en Amerikaanse Zioniste. Die vernietiging van Berlyn en die kombers bombardement van vroue en kinders. Enigeen wat oorgebly het, is verkrag, doodgemaak en opgehang, oud of jonk, dit het nie saak gemaak nie.
The Treachery and the Bombing of Civilians by the Americans and British who finance Stalin's slaughtering of millions upon millions of Russians and Germans.
Churchill stood by and funded Stalin as he slaughtered his way West with some of the most atrocious war crimes that have never been addressed to date. All financed by the British and American Zionists. The destruction of Berlin and blanket bombing of women and children. Anyone left alive was raped to death and hanged, old or young, it didn't matter.
Stalin admitted that the Red Army succeeded in defeating Germany only because they received $11 billion from FDR and Jews in America through Lend Lease Act to defeat Germany.
We know that Red Army also received military assistance from United States Air forces during Battle of Stalingrad to defeat Germany.
Roosevelt dies and does not see the end of the War and Harry Truman enters the game. That same month Italian Partisans capture Mussolini and his lover Clara Petacci along with several comrades in northern Italy. They will all be executed after a sweeping trial.
It is believed before they shot Mussolini that he was sodomized, beaten and tortured whilst Claretta Petacci was beaten and raped several times. Their bodies will be brought to Milan the next day where before being hanged upside down in a heinous public display, a baying crowd will stamp, spit and urinate on them.
When Hitler receives this news, he is already bunkered down in Berlin since January 16 1945 and surrounded by his high command.
From Adolf Hitler's Declaration of War Against United States [Hitler's Reichstag Speech of December 11, 1941] – Translation by Mark Weber:
"This man [FDR] first incites to war, and then he lies about its causes and makes baseless allegations. He repugnantly wraps himself in a cloak of Christian hypocrisy, while at the same time slowly but very steadily leading humanity into war. And finally, as an old Freemason, he calls upon God to witness that his actions are honorable. His shameless misrepresentations of truth and violations of law are unparalleled in history."
The following New York item was published from Coast to Coast under an Associated Press date line of May 8, 1937:
"President Roosevelt will receive the tenth award of the Gottheil Medal for 'Distinguished Services to Jewry."
Another such Jewish medal was given to him on December 22, 1938, according to the N.Y. Herald-Tribune of December 23, 1938. The slave ship "Expedition" was owned by John and Jacob "Roosevelt" who were Jews
Benjamin Franklin said at the Philadelphia Constitutional Convention of 1787:
"For over 1,700 years, the Jews have been bewailing their sad fate in that they have been exiled from their homeland, as they call Palestine. But gentlemen, did the world give it to them in fee simple, they would at once find some reason for not returning. Why? Because they are vampires, and vampires do not live on vampires. They cannot live only among themselves. They must subsist on Christians and other people not of their race. If you do not exclude them from these United States, in their Constitution, in less than 200 years they will have swarmed here in such great numbers that they will dominate and devour the land and change our form of government, for which we Americans have shed our blood, given our lives our substance and jeopardized our liberty.""I warn you, gentlemen, if you do not exclude Jews for all time, your children will curse you in your graves."
– Benjamin Franklin at the Philadelphia Constitutional Convention of 1787.
Between 20 and 25 million Germans and collaborators perished in the years after the war had officially ended. It is a crime that will never be forgotten, and it is a crime that will forever stain the hands and national consciences of the former USSR, the United States of America, Great Britain and her Commonwealth nations, and perhaps more pointedly the Anglo and Slavic races.
It is noteworthy that both Patton and McArthur after the war realized they had been used and betrayed – even Churchill said "we slaughtered the wrong pig" – and not surprising, that both Patton and McArthur were assassinated by the Jews
Dié baanbreker dokumentêr kroniek die opkoms van Duitsland van nederlaag in die Eerste Wêreldoorlog, deur kommunistiese pogings om Duitsland oor te neem; hiperinflasie tydens die Weimar Republiek, wydverspreide werkloosheid en ellende, en Adolf Hitler se aanleiding tot krag.
Dit wys ook 'n persoonlike kant van Adolf Hitler: wie hy was, sy familie agtergrond, sy kunswerk en stryd in Wene en wat hom gemotiveer het hom aan bewind te kom.
Daar is so baie goed weggesteekte geskiedenis te vertel; FDR Pearl Harbor sameswering, Sowjet-brutaliteit en verraad aan alle kante. Weet ons werklik wat die ware koste van oorlog is? Het ons regtig al die feite tot ons beskik?
Kyk na hierdie reeks en ontbloot die ware oorsake van die Tweede Wêreldoorlog. Doen jou eie navorsing en besluit wat jy kies om te glo. Dink Anders…
Vir die volgende 26 weke gaan SAUK Nuus elke Sondag terug kyk na geskiedenis wat ons nie mag sien nie. Ons volk het almal duisende ure se programmering bekyk op TV en massa media, wat deur die oorwinnaar geskryf is. Dit is dus net regverdig dat die anderkant van waarheid ook beskikbaar moet wees, die storie van die verloorder…
Sedert die middel van die 20ste eeu, het die wêreld nog altyd net een kant van die ongelooflike storie gehoor. Die verhaal van 'n seun van 'n gewone gesin wie se ambisie dit was om 'n kunstenaar te word, maar wat in plaas daarvan 'n swerwer geword het.
Sy lot was egter nie om weg te dryf in die vergetelheid nie, maar om te styg tot die grootste hoogtes van krag, uiteindelik om een van die mees invloedrykste mense wat ooit geleef het te word.
Nou vir die eerste keer, hier is 'n gedokumenteerde verslag van 'n storie wat baie glo, die grootste storie wat nooit vertel was nie!
Don V
Kyk die reeks so ver hier: Verbode Waarheid – Die grootste storie wat nooit vertel was.
---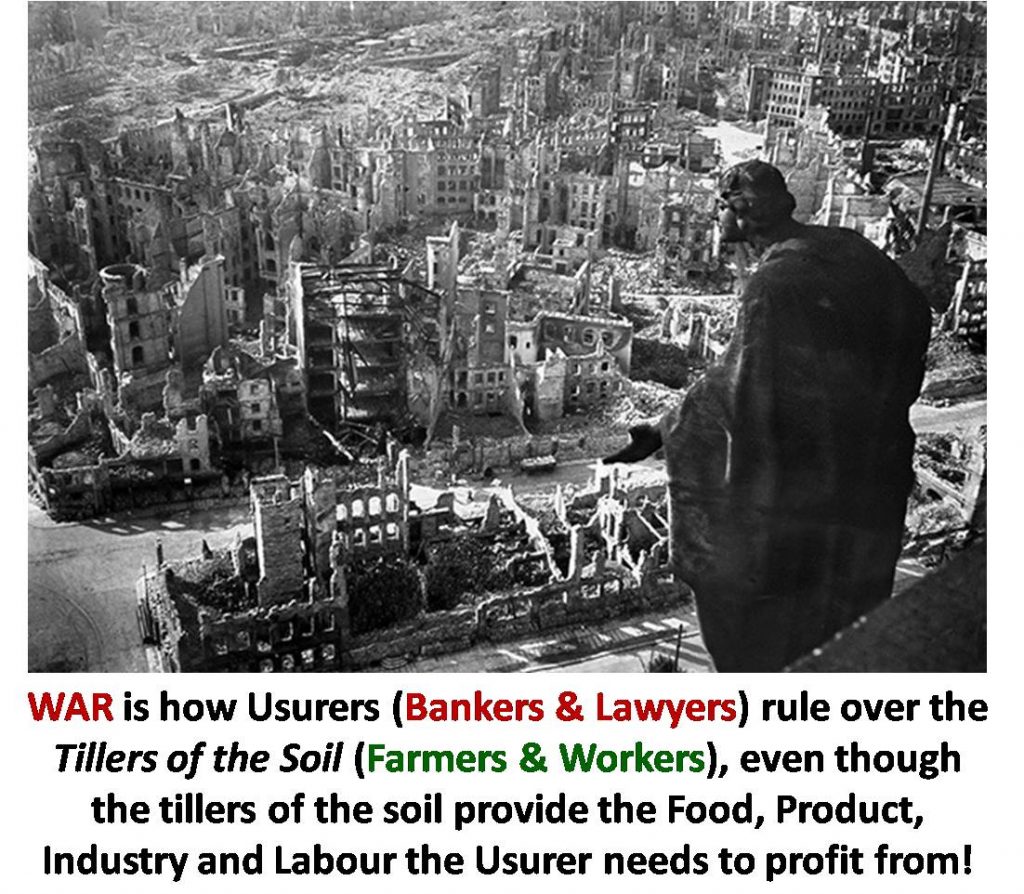 ---