Verbode Waarheid 22: Geallieerdes (Bolsjewiste) weier om oorgawe te aanvaar sodat hulle onverhoeds kan plunder, vermoor, beset en wraaksugtige Volksmoord pleeg
Na die nederlaag van Duitsland en Japan, ten spyte van vorige afgekeurde aanbiedinge vir vrede van beide, implementeer die Geallieerdes "Operation Paperclip" – die totale plundering van Duitse tegnologie, kennis, patente, goud, industrie, wetenskaplikes, ingenieurs, ens. terwyl hulle etniese reiniging en volksmoord op die Duitsers afdwing, op 'n wraaksugtige manier wat die Verdrag van Versailles soos 'n uitstappie laat blyk. Maar Japan, die Duitsers se getroue bondgenoot tot die einde, ontsnap grootliks die bolsjewistiese haatveldtog en volksmoord, nieteenstaande die reputasie van marteling in hul gevangeniskampe.
Saam met die Balfour-verklaring (wat Palestina aan die Jode gegee het in WWI) en die opkoms van Kommunisme, het die Geallieerdes doelbewus Duitsland heeltemal in die Eerste Wêreldoorlog vernietig, deur Amerika in die Oorlog in te sleep en Rasputin in Rusland te vermoor om deurlopende steun van Rusland te kry. Dit was die doel van die Verdrag van Versailles, wat tot die Tweede Wêreld Oorlog gelei het. Na WWII was dié plan van Volksmoord voortgesit…
"Indien Duitsland weer besigheid en sake doen in die volgende 50 jaar, het ons hierdie oorlog (WW1) tevergeefs gelei." – Churchill in The Times (1919).
World War 2 was just a continuation of the plan of the Bolshiviks, goading the Allies, to make sure that Germany will be totally ruined and will never rise again. Why did Japan not get the same treatment despite their notoriously cruel POW camps?
In 1935 Churchill and the Bolshevik war lobby murdered Lawrence of Arabia to continue with World War 2. Hitler didn't know this. By 1939, Britain secretly agreed with Stalin on USSR conquering Western Europe which was to begin on July 1941.
Hitler and Germany allowed more than 175,000 British soldiers to escape at Dunkirk in May/June 1940. After that, Germany dropped Peace leaflets over London in July 1940 in "English".
Even after that, the Allies insisted on continuing with the war and deceitfully destroy Germany in order to plunder and commit genocide.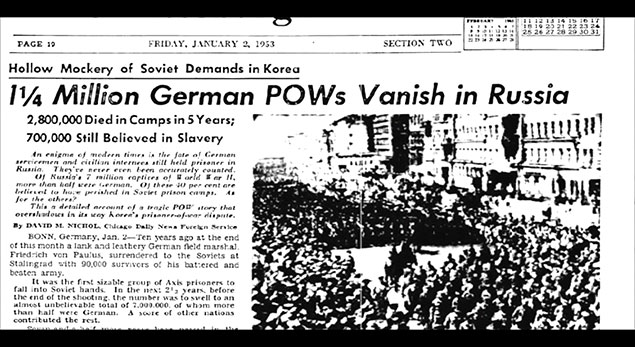 With the sinking of the USS Indianapolis, which had delivered the Atom bomb which was dropped on Nagasaki, Captain Charles McVay was completely blamed even though FDR and Jews were responsible for creating the war between Japan and US, and also forcing America to continue war against Japan after the Allies rejected the Japanese surrender memo on January 20, 1945.
The sinking of German ship Wilhelm Gustloff by Bolshevik Jews killed 10,000 Germans (nine times more than the victims of Titanic/Olympic owned by Jewish JP Morgan). But it is rarely mentioned in any history books due to the fact that is goes against the propaganda.
Little is known about the 25,000 American POW's that were in the German camps, that the Russians took and they were not heard from after the war. Eisenhower was aware of this and said nothing, just as nothing was said of Ike's order to punish the German soldiers after the war was over, in encampments with no food, water, or protection from the elements and ordered anyone who tried to support the German prisoners, to be shot. Thousand died. Unknown until Vets told of this in the later years of their life…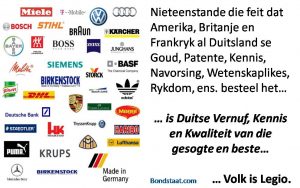 Dié baanbreker dokumentêr kroniek die opkoms van Duitsland van nederlaag in die Eerste Wêreldoorlog, deur kommunistiese pogings om Duitsland oor te neem; hiperinflasie tydens die Weimar Republiek, wydverspreide werkloosheid en ellende, en Adolf Hitler se aanleiding tot krag.
Dit wys ook 'n persoonlike kant van Adolf Hitler: wie hy was, sy familie agtergrond, sy kunswerk en stryd in Wene en wat hom gemotiveer het hom aan bewind te kom.
Daar is so baie goed weggesteekte geskiedenis te vertel; FDR Pearl Harbor sameswering, Sowjet-brutaliteit en verraad aan alle kante. Weet ons werklik wat die ware koste van oorlog is? Het ons regtig al die feite tot ons beskik?
Kyk na hierdie reeks en ontbloot die ware oorsake van die Tweede Wêreldoorlog. Doen jou eie navorsing en besluit wat jy kies om te glo. Dink Anders…
Vir die volgende 26 weke gaan SAUK Nuus elke Sondag terug kyk na geskiedenis wat ons nie mag sien nie. Ons volk het almal duisende ure se programmering bekyk op TV en massa media, wat deur die oorwinnaar geskryf is. Dit is dus net regverdig dat die anderkant van waarheid ook beskikbaar moet wees, die storie van die verloorder…
Sedert die middel van die 20ste eeu, het die wêreld nog altyd net een kant van die ongelooflike storie gehoor. Die verhaal van 'n seun van 'n gewone gesin wie se ambisie dit was om 'n kunstenaar te word, maar wat in plaas daarvan 'n swerwer geword het.
Sy lot was egter nie om weg te dryf in die vergetelheid nie, maar om te styg tot die grootste hoogtes van krag, uiteindelik om een van die mees invloedrykste mense wat ooit geleef het te word.
Nou vir die eerste keer, hier is 'n gedokumenteerde verslag van 'n storie wat baie glo, die grootste storie wat nooit vertel was nie!
Don V
Kyk die reeks so ver hier: Verbode Waarheid – Die grootste storie wat nooit vertel was.
---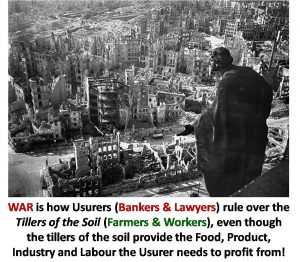 ---