Verbode Waarheid 23: Geallieerdes neem onwettige eienaarskap van Duitsland wyl Duitse krygsgevangenes terugkeer en Oos-Duitsland word geskep met die Berlynse Muur
Die Geallieerdes gaan aan met oorlog teen Duitsland met propaganda en misleiding. Hulle neem onwettige eienaarskap van Duitsland wyl 'n paar Duitse krygsgevangenes terugkeer en Oos-Duitsland word geskep met die bou van die Berlynse Muur.
Op 8 Mei 1945, het generaal Alfred Jodl 'n Akte van Oorgawe onderteken. Jodl was die hoë bevelvoerder van die Duitse gewapende magte. Maar nêrens op hierdie dokument was die handtekening van die aangestelde hoof van die Derde Ryk, Karl Donitz nie.
Volgens die internasionale reg was dit dus nie 'n geldige oorgawe nie, dus is die Federale Republiek van Duitsland sowel as die Demokratiese Republiek van Duitsland tegnies gebou op 'n bestaande soewereine staat wat 'n skending van die internasionale reg is.
Die Geallieerdes implementeer "Operation Paperclip" – die totale plundering van Duitse tegnologie, kennis, patente, goud, industrie, wetenskaplikes, ingenieurs, ens. terwyl hulle etniese reiniging en volksmoord op die Duitsers afdwing, op 'n wraaksugtige manier onder die bolsjewistiese haatveldtog.
Hitler fought and died for the biological and cultural survival of the Germanic peoples and the peoples of Europe as a whole. He knew what was at stake. Germany should have won the war. It was a war for the survival of Western Civilization as we can see so clearly today.
Not only did White people lose that war, all races of mankind lost that war. Without the White Race all races of mankind are going to suffer. Europeans are more compassionate as a race than any other race of humans up to the point of self destruction, as is so clearly proven today in Europe. That's our strength but it can also be a great weakness that can destroy us if we don't develop a way of living based on natural law.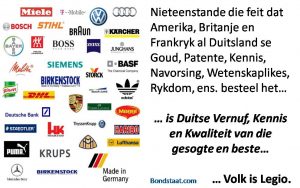 "For we are opposed, around the world, by a monolithic and ruthless conspiracy that relies primarily on covert means for expanding its sphere of influence; in infiltration instead of invasion, on subversion instead of elections, on intimidation instead of free choice; on guerrillas by night instead of armies by day. It is a system which has conscripted vast human and material resources into the building of a tightly knit, highly efficient machine that combines military, diplomatic, intelligence, economic, scientific, and political operations. Its preparations are concealed not published. Its mistakes are buried, not headlined, its dissenters are silenced, not praised; no expenditure is questioned, no rumor is printed, no secret is revealed. It conducts the cold war, in short, with a wartime discipline no democracy would ever hope to wish to match…."
President John F. Kennedy, in a speech before the American Newspaper Publishers Association, Waldorf-Astoria Hotel, on April 27, 1961.
In 1995 Jewish Hollywood created a anti-German movie called "DIE HARD: WITH A VENGEANCE (1995)" presenting Germans as terrorists who stole the worlds gold reserve from the Federal Reserve Bank In NY.
The irony is that in reality it is the JEWS who stole and are stealing the World's Gold Reserve and World's Money supply from all of humanity.
This is another example of predictive programming and secret disclosure in a movie that presents the real thieves and criminals (International Jewry and their helpers) as victims and the real victims (The Germans and the Western World) as the aggressors.
What evil…
"Our fight against Germany must be carried to the limit of what is possible. Israel has been attacked. Let us, therefore, defend Israel! Against the awakened Germany, we put an awakened Israel. And the world will defend us." (Jewish author Pierre Creange in his book Epitres aux Juifs, 1938)
BUT Israel was only created by the Rothschilds in 1948! What "Israel" is he talking about? – "Judea" – the International "Jews".
"The millions of Jews who live in America, England and France, North and South Africa, and, not to forget those in Palestine, are determined to bring the war of annihilation against Germany to its final end."
(The Jewish newspaper, Central Blad Voor Israeliten in Nederland, September 13, 1939)
BUT Palestine? The place the "Jews" only took over in 1948, and re-named "Israel".
"We Jews regard our race as superior to all humanity, and look forward, not to its ultimate union with other races, but to its triumph over them."
(Goldwin Smith, Jewish Professor of Modern History at Oxford University, October, 1981)

"We Jews, we are the destroyers and will remain the destroyers. Nothing you can do will meet our demands and needs. We will forever destroy because we want a world of our own."
(You Gentiles, by Jewish Author Maurice Samuels, p. 155).

"We will have a world government whether you like it or not. The only question is whether that government will be achieved by conquest or consent."
(Jewish Banker Paul Warburg, February 17, 1950, as he testified before the U.S. Senate).
Objective, clear and precise understanding of Adolf Hitler's speeches has been kept away from the world since the end of WWII. It is, especially from Jewish circles, feared that the incredibly persuasive rhetorical skill of Adolf Hitler will inflame support for his message. It is generally accepted that the media, also owned by Jewish circles, has actively kept the viewing public from access to accurate translations of Adolf Hitler's speeches.
Obviously any idea of eradicating Jews is an utterly atrocious idea, as would be genocide of any race, yet, damn anyone who keeps you away from scientific objectivity. In this case the science of History as portrayed in these speeches. This video has been uploaded to accurately document history:
Dié baanbreker dokumentêr kroniek die opkoms van Duitsland van nederlaag in die Eerste Wêreldoorlog, deur kommunistiese pogings om Duitsland oor te neem; hiperinflasie tydens die Weimar Republiek, wydverspreide werkloosheid en ellende, en Adolf Hitler se aanleiding tot krag.
Dit wys ook 'n persoonlike kant van Adolf Hitler: wie hy was, sy familie agtergrond, sy kunswerk en stryd in Wene en wat hom gemotiveer het hom aan bewind te kom.
Daar is so baie goed weggesteekte geskiedenis te vertel; FDR Pearl Harbor sameswering, Sowjet-brutaliteit en verraad aan alle kante. Weet ons werklik wat die ware koste van oorlog is? Het ons regtig al die feite tot ons beskik?
Kyk na hierdie reeks en ontbloot die ware oorsake van die Tweede Wêreldoorlog. Doen jou eie navorsing en besluit wat jy kies om te glo. Dink Anders…
Vir die volgende 26 weke gaan SAUK Nuus elke Sondag terug kyk na geskiedenis wat ons nie mag sien nie. Ons volk het almal duisende ure se programmering bekyk op TV en massa media, wat deur die oorwinnaar geskryf is. Dit is dus net regverdig dat die anderkant van waarheid ook beskikbaar moet wees, die storie van die verloorder…
Sedert die middel van die 20ste eeu, het die wêreld nog altyd net een kant van die ongelooflike storie gehoor. Die verhaal van 'n seun van 'n gewone gesin wie se ambisie dit was om 'n kunstenaar te word, maar wat in plaas daarvan 'n swerwer geword het.
Sy lot was egter nie om weg te dryf in die vergetelheid nie, maar om te styg tot die grootste hoogtes van krag, uiteindelik om een van die mees invloedrykste mense wat ooit geleef het te word.
Nou vir die eerste keer, hier is 'n gedokumenteerde verslag van 'n storie wat baie glo, die grootste storie wat nooit vertel was nie!
Don V
Kyk die reeks so ver hier: Verbode Waarheid – Die grootste storie wat nooit vertel was.
---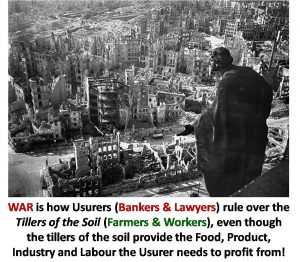 ---