Verbode Waarheid 25: Finale episode. Die verkeerde vyand is verslaan in die stryd om Europa te red. Hitler se laaste toespraak – hy was reg.
In hierdie laaste episode is dit duidelik dat die verkeerde vyand verslaan is in die stryd om Europa van die komuniste en bolsjeviste te red. Ons kyk ook na Operasie Donder, die Charlemagne Waffen SS en Hitler se klaaglied.
"Wanneer maak die jakkals nie die weerlose gans dood nie, net omdat die gans nie aggresief van aard is nie, en sedert wanneer word 'n wolf 'n pasifis, omdat skape geen wapens dra nie?
Dat daar bourgeois skape is wat daardie onsin in alle erns glo, bewys net hoe nodig dit was om 'n era te eindig wie se opvoedkundige stelsel in staat was om sulke persoonlikhede te kweek, te onderhou en politieke invloed te gee"
Hitler se laaste toespraak, 1945
Hitler was nie 'n rassis nie nog 'n "supremacist" en het selfs die kulture van Sjinese en Japannese beter as die Duitse kultuur beskou:
"In saying this, I promise you I am quite free of all racial hatred. It is, in any case, undesirable that one race should mix with other races. Except for a few gratuitous successes, which I am prepared to admit, systematic cross-breeding has never produced good results. It's desire to remain racially pure is a proof of the vitality and good health of a race. Pride in one's own race—and that does not imply contempt for other races—is also a normal and healthy sentiment. I have never regarded the Chinese or the Japanese as being inferior to ourselves. They belong to ancient civilisations, and I admit freely that their past history is superior to our own. They have the right to be proud of their past, just as we have the right to be proud of the civilisation to which we belong. Indeed, I believe the more steadfast the Chinese and the Japanese remain in their pride of race, the easier I shall find it to get on with them." Adolf Hitler (13th February 1945).
In 1957 Paula Hitler published a statement aimed at the post war Jewish controlled German press in support of her brother, 12 years after his death. This is the content of that letter.
Gentlemen, never forget this; your names will be forgotten even before your bodies have rotted away in the earth, but the name Adolf Hitler will still be a light in the darkness. You cannot murder him by drowning his memory in your sick buckets, and you cannot strangle him with your filthy, ink stained fingers.

His name exists forever in hundreds of thousands of souls. You are far too insignificant to even touch him. He loved Germany. He fretted over Germany, and when he fought for honour and respect, he fought for German honour and respect for Germany. And when there was nothing left, he gave his life for Germany.

What have you given so far? Which one of you would give his life for Germany? The only things you care about are riches, power, and never ending luxurious living. When you think of Germany, you think of without responsibility or care.

Trust me on this: the Fuhrer's utter unselfishness in word and deed alone guarantees his immortality. The fact that the bitter fight for Germany's greatness wasn't crowned by success like Cromwell's in Britain, for example, has a lot to do with the mentality of the people involved. On the one hand the Englishman's character is essentially unfair, ruled by jealousy, self-importance, and lack of consideration. But he never forgets he is an Englishman, loyal to his crown. On the other hand, you with your need for recognition are never first and foremost a German. Therefore it doesn't matter to you, you insignificant beings, if you destroy the entire nation. Your only guiding thought will always be me first, me second, me third. In your worthlessness you will never think of the welfare of the nation, and with that pitiful philosophy you wish to prevent the immortality of a giant?
Paula Hitler, Berchtesgaden, May 1, 1957
Since last evening, I have watched 25 episodes so far. As a 65 year old American, this is the first time in life that I have come to a realization of the truth about Chancellor Hitler and the German nation which he attempted to save. I now realize that I was totally duped up until this day. Thank-you for producing this expose. Frankly, it is a shame that Germany did not win World War One OR World War Two. As a result, the world is facing a resurgent totalitarian threat from a homosexual non-American and his transvestite "wife" occupying the White House, and the "Euro-Zone" as well as the 'U.S.S.A.' Zionist "Federal Reserve" continuing to enslave the world. Frankly, it is a shame that Germany's leader today is not Chancellor Hitler rather than that horrible woman, Chancellor Merkel. As for America, she is reaping what she has sown, and will face thermonuclear destruction by Russia in the very near future. God is sovereign and in total control, and He will Judge America. God will surely deal much more benignly and mercifully with Herr Hitler than He will with that satanic triumvirate F.D.R., Churchill, and Stalin. After watching this documentary, it is my considered opinion Adolph Hitler is the most unjustly maligned leader in modern history. R.I.P. Herr Hitler.
I cannot begin to tell you how informative and refreshing this documentary has been for me. I have always had a passion and thirst for history and the world wars from my early childhood years. The rubbish the world was taught never made any sense. This documentary could not of come at a better time, especially for the nations and peoples of Europe (and the rest of the world) who are going through an undeclared war as we speak, by the Zionist NWO. History basically repeating itself. Too bad the allied forces did not join the great man Adolf Hitler and the Germans in annihilating this pure evil all these decades ago, we would be living in peace, harmony and prosperity right now.
I thank you wholeheartedly for your brilliant work, those painstaking hours you have poured into this project will not go in vane. Long live the Nationalist Socialist movement around the world, lets all unite to defeat this cancerous parasite.
Thank you so much for making this wonderful documentary. As an adult, I had always been interested in WW2 and Adolf Hitler. I could never understand how someone could hate people enough to supposively kill 6 million of them. The more I tried to learn about Herr Hitler, the less sense the story made. For example, people who aspire to be artists to me are usually creative, peaceful people. That didn't fit the personality of "a monster". Then I read Mein Kampf and I got the feeling this man was pretty intelligent, not a stupid school drop out like mainstream media portrays him. Then I saw pictures of Herr Hitler on Pinterest with children! And then I saw a pin on his childhood which led me to TGSNT documentary. I wondered why, if Germany did not want Jews, why did they not send them to another country instead of allegedly killing them? I was never taught about the Transfer Agreement in school. I had been seeking the truth about Adolf Hitler and you helped me find it.
This is a truly amazing piece of work! Wow… very emotional and truth lending. Thank you, Mr. Wise, for putting together this incredible doc. It is surely something I will purchase a physical copy of; we never know when the internet might be taken away and I want my kids to know this truth. Primarily so they can see the guise that man can work under, and the evil paths that the thirst and greed for money and power can compel them to meander.

It is great that you uploaded the final part of the documentary here. You have done an excellent job in revealing the truth to the whole world.

In 1600s, Balthasar Gracian (who wrote "The Art of Worldly Wisdom") said this – "Lies come along first, and drag along the gullible. Truth limps in long afterwards, hanging on the arms of time."

This wonderful documentary has shown how true those words are!
Dié baanbreker dokumentêr kroniek die opkoms van Duitsland van nederlaag in die Eerste Wêreldoorlog, deur kommunistiese pogings om Duitsland oor te neem; hiperinflasie tydens die Weimar Republiek, wydverspreide werkloosheid en ellende, en Adolf Hitler se aanleiding tot krag.
Dit wys ook 'n persoonlike kant van Adolf Hitler: wie hy was, sy familie agtergrond, sy kunswerk en stryd in Wene en wat hom gemotiveer het hom aan bewind te kom.
Daar is so baie goed weggesteekte geskiedenis te vertel; FDR Pearl Harbor sameswering, Sowjet-brutaliteit en verraad aan alle kante. Weet ons werklik wat die ware koste van oorlog is? Het ons regtig al die feite tot ons beskik?
Kyk na hierdie reeks en ontbloot die ware oorsake van die Tweede Wêreldoorlog. Doen jou eie navorsing en besluit wat jy kies om te glo. Dink Anders…
Vir die volgende 26 weke gaan SAUK Nuus elke Sondag terug kyk na geskiedenis wat ons nie mag sien nie. Ons volk het almal duisende ure se programmering bekyk op TV en massa media, wat deur die oorwinnaar geskryf is. Dit is dus net regverdig dat die anderkant van waarheid ook beskikbaar moet wees, die storie van die verloorder…
Sedert die middel van die 20ste eeu, het die wêreld nog altyd net een kant van die ongelooflike storie gehoor. Die verhaal van 'n seun van 'n gewone gesin wie se ambisie dit was om 'n kunstenaar te word, maar wat in plaas daarvan 'n swerwer geword het.
Sy lot was egter nie om weg te dryf in die vergetelheid nie, maar om te styg tot die grootste hoogtes van krag, uiteindelik om een van die mees invloedrykste mense wat ooit geleef het te word.
Nou vir die eerste keer, hier is 'n gedokumenteerde verslag van 'n storie wat baie glo, die grootste storie wat nooit vertel was nie!
Don V
Kyk die reeks so ver hier: Verbode Waarheid – Die grootste storie wat nooit vertel was.
---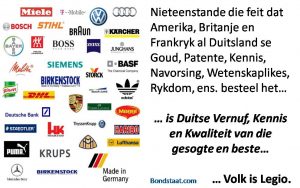 ---